I don't know about you, but I don't like to eat anything covered by Bill Gates. "No thanks" to trans fat/heavy metal coated DARPA products!
You may have recently bought an avocado or apple with a "new" sticker – APEEL – which represents a new "protective coating". What exactly does this product protect? And is it worth your health just so your lemons are fine for a few more days?
Once you've learned the ABCs of Apeel, you can make an informed, health-conscious decision to say "No!
Edipeel ™ also known as Apeel is a layer of processed fatty acids sprayed on the outside of fruits and vegetables after harvest "to maintain freshness" and prevent them from oxidizing and going rancid.
According to Apeel's website:
"Apeel keeps produce fresh longer, with the help of a little extra 'skin'. Our plant-based protection slows water loss and oxidation, the main causes of spoilage… Apeel is composed entirely of purified monoglycerides and diglycerides, edible compounds that can be found in a variety of foods.They are safe to eat as verified by regulatory authorities around the world, including Health Canada, the Food Administration and U.S. Food and Drug Administration (FDA) and the World Health Organization (WHO). In fact, they are so safe that they can be found in products designed for the most sensitive populations, such as infant formula and nutritional shakes for to the elderly."
They claim that the Apeel is completely edible, but maybe that's because we've gotten used to eating poisons. It's a cake.
When I tried to find out the details of what Apeel is used to make, the information on their website and product fact sheets was sparse, to say the least!
The assurance that Apeel gives us is typical mumbo jumbo jargon: "Apeel products do not contain hazardous ingredients that cause harm to people or the environment in the context of their intended use."
Click on the image above to learn more about Dr.'s Ultimate Detox Protocol. tenpenny
The Bill Gates company, which was started in 2012, straight up lies.
They list monoglycerides and diglycerides. Does anyone remember how horrible TRANS fats are for your health? And that New York City banned them from restaurants just a few years ago? Trans fats harden the arteries and can lead to arteriosclerosis. Monoglycerides and diglycerides can contribute to inflammation in the body. Inflammation has been linked to a number of chronic diseases, including heart disease, diabetes and cancer.
In addition, the manufacture of this "safe" food additive uses "auxiliary processing residues", which are essentially heavy metals such as lead, nickel, cadmium, mercury, toxic ash and arsenic. So when you consume products coated with Apeel, you are eating highly processed open fats, which contain toxic heavy metals. And then, along the way, they add different solvents to help with emulsification. So it sounds like a toxic poisoning operation to me.
Note that there is no way to remove Apeel. You can't wash it. You cannot use other chemicals to remove it. It cannot be mechanically rubbed and of course seeps into fruits and vegetables.
And if you want to peel Apeel, keep in mind that the skin can dramatically increase your nutrient intake, as they often contain more nutrients than other fruits and vegetables. For example, leaving the skin on a raw apple gives you approximately 332% more vitamin K, 142% more vitamin A, and 115% more vitamin C than the peeled version!
And if you think you're only going to spring organic, Apeel can be used on USDA certified organic products. What a real farce! Plus, you might not even know you're eating Apeel-coated products. Laws and labeling requirements vary from country to country and state to state. This means that the product may or may NOT have the Apeel logo on the product stickers. You won't know unless you ask your production manager. And they probably don't know it either.
Countries selling products coated with Apeel include the United States, Canada, Germany, United Kingdom, France, Italy, Peru, Spain, Sweden, Norway, China, Australia, South Africa, Poland, and Japan. The EU, Switzerland, the UK and Norway only allow this coating to be applied to fruits and vegetables that have outer skins that are not normally eaten, while the US and other countries allow it on everything.
=====
WARNING!!!! Apeel has already secured the following partnerships:
Nature's Pride (big importer of avocados from Europe) Sage Fruit Co. (Washington State Organic Apple Grower) Del Monte (Avocados) Eco Farms (Avocados) Del Rey (Avocados) Horton Fruit Company (Avocados) RV Aguacates (Avocados) Alpine Fresh (Asparagus) Beta (Asparagus) Farm Direct Supply (asparagus) La Venta (asparagus) SiCar Farms (limes)
Many other fruits and vegetables, including tomatoes, green leafy vegetables, cucumbers, raspberries and citrus fruits, can use the Edipeel coating, and more products will no doubt be added in the future. https://www.apeel.com/find-us even offers a store locator to find where their products are carried near you.
Apeel is (or will be) available at the following grocery stores:
Costco Trader Joes Gelsons Ralphs Sprouts Vons Walmart Whole Foods Kroger Harps Foods Wakefern Price Right Fairway Market Target Bristol Farms and more
Be careful and stay alert! To learn more about the Apeel product, be sure to read Dr. Tenpenny, What are they doing to our fruit and veg here.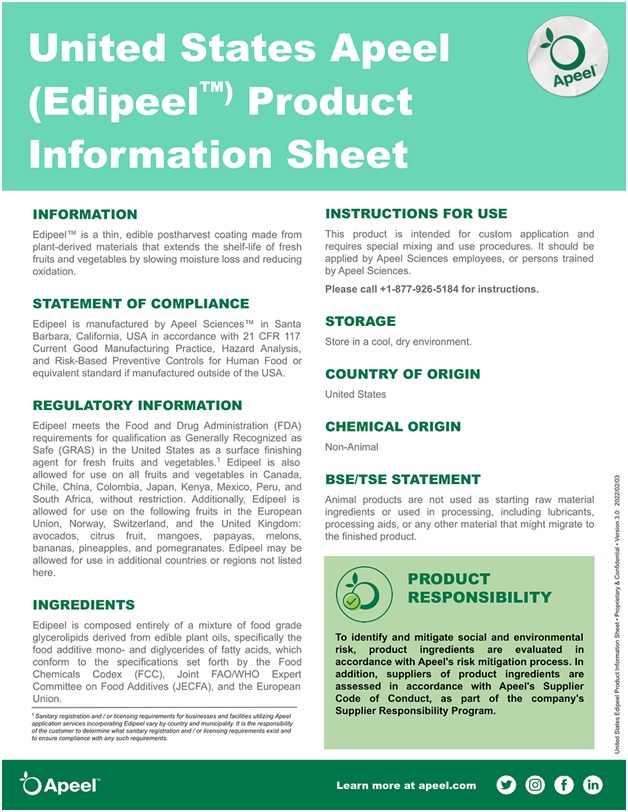 ++++++++++++++++++++++++++++++++++++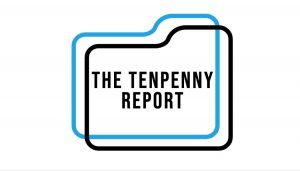 Like what you're reading in The Tenpenny Report? Share this article with your friends. Help us grow.
Get more from Dr. tenpenny's voice of reason on your website.
Join our list here
++++++++++++++++++++++++++++++++++++
Maryam Henein is an investigative journalist, founder and editor-in-chief of the health and marketplace magazine HoneyColony. She is also a functional medicine consultant/coach and director of the award-winning documentary Vanishing of the Bees, narrated by Elliot Page. Follow her on Twitter @maryamhenein. Email her: maryam@honeycolony.com.
Vaxxter support
Your donation helps us fight censorship and stay ad-free
Help us fight
Make this donation every day, week, quarter, year
Give now Select payment method

Credit card information
This is a secure payment encrypted with SSL.
Name of the card holder *

Terms
Acceptance of any contribution, gift or grant is at Vaxxter's discretion. The Vaxxter will not accept any gift unless it can be used or spent in a manner consistent with the educational purpose and mission of the Vaxxter.
No irrevocable gift, whether pure or lifetime, will be accepted if, under any reasonable set of circumstances, the gift endangers the donor's financial security.
General donations to Vaxxter are not tax deductible. If you are interested in contributing a minimum amount of $5,000 or more to our 501C3 donation, please contact us directly.
The Vaxxter will only accept cash donations. Certain other gifts, real property, personal property, gifts in kind, illiquid securities and contributions whose sources are not transparent or whose use is restricted in some way must be reviewed before the acceptance due to special obligations or responsibilities raised. they can pose for Vaxxter and will not be accepted.
Vaxxter will respect anonymous gifts, Vaxxter will restrict information about the donor to only staff members who need to know.
Vaxxter will not compensate, whether through commissions, finder's fees or other means, any third party for directing a gift or donor to Vaxxter.
Donation conditions
Total Donation:

$25
Once
If you prefer postal mail, please make donation checks payable to CHOONADI, LLC, owner of Vaxxter.com 7380 Engle Road Middleburgh Hgts, OH 44130